Are you wondering if now is the right time to schedule maintenance service on your Honda's transmission? Has your Honda's transmission started acting up? Regardless of your current automotive service needs, rest assured that our certified technicians can quickly identify your vehicle's needs and complete the work to your satisfaction. The transmission is an essential system that is responsible for controlling the motion of the vehicle through its power and torque. Serious consequences can develop when this system is not properly maintained and when minor repair issues are not addressed quickly. You can potentially avoid a serious breakdown situation with your Honda when you simply bring your vehicle to us today for transmission service.
What Type of Maintenance Service Is Needed on a Honda's Transmission?
Each vehicle has unique service needs, and you should always refer to your Honda's owner manual for specific suggestions and requirements related specifically to it. You can also obtain customized maintenance information about the transmission by reaching out to us directly. The most common type of transmission work that is needed on a vehicle relates to the fluid. Transmission fluid should be flushed or changed every couple of years or every 30,000 to 45,000 miles. The reason for this is because transmission fluid can accumulate particles, such as dirt and metal shavings. As the fluid gets dirtier, it is less capable of lubricating the transmission parts effectively. It also loses some of its ability to maintain an ideal temperature in the transmission components.
Should My Honda's Transmission Fluid Be Changed or Flushed?

Transmission fluid changes and flushes are terms that are commonly used interchangeably, but they are actually different services. Flushing the transmission fluid means that all fluid in the system is removed. This includes fluid in the torque converter, the pan and the cooler lines. It is replaced with fresh, clean fluid, and the filter is also replaced. Changing the transmission fluid only replaces old fluid in the pan with clean, fresh fluid. Fluid throughout the remainder of the transmission system is not touched. The filter is usually changed with this service as well. Your Honda service tech can provide a recommendation on the right transmission service for your vehicle after examining the current condition of the fluid. You may also consider how frequently you typically schedule maintenance services. If you normally wait longer between services, a full flush may be a better idea./p>
What Are a Few Common Signs of Transmission Trouble?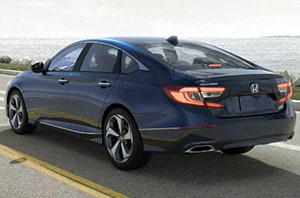 Periodic transmission fluid service is a wonderful and convenient way to reduce the likelihood of a serious repair issue developing in your Honda. However, as you continue to put miles on your vehicle and as the components age, there may be a chance that a repair issue will develop despite your best efforts at preventive maintenance. Addressing repair issues as soon as possible may prevent serious issues from developing. Some of the signs to look for include transmission fluid leaking from the car, the smell of something burning when the car is running, the engine service light illuminated on the dashboard and rough movement as the vehicle changes gears. Our Honda service team is committed to helping you take excellent care of your vehicle. Regardless of your current auto repair or maintenance needs, we are ready to help. Make your appointment with our office today.