Tires are the only part of your vehicle that directly touches the road, which means they have a large impact on how your vehicle accelerates, brakes and handles. In order to continue enjoying peak performance in your Honda car, truck or SUV, you'll need to have your vehicle's tires routinely serviced.
From tire rotations and balances to wheel alignment checks, regular maintenance is key to getting the most from your new tires in Phoenix. Learn more about tire service, as well as tips to extend the life of your Honda tires, below.
How Often Should Tires Be Serviced
When it comes to tire service, keeping a set maintenance schedule is always a good plan. Putting off or altogether skipping service can negatively impact the health of your tires, causing them to wear incorrectly or develop other problems. Oppositely, coming in as recommended by your vehicle's manufacturer can help you get thousands more miles out of your Honda tires and prevent any issues from occurring!
Rotation and balance is the most common tire service that your vehicle needs, and should be done about every 5,000-7,500 miles. It's also important to have your wheel alignment checked at least once a year. When you're due for tire service in Phoenix, be sure to see what specials we are running for the month! We often offer alignment coupons and rotation and balance coupons to help you save.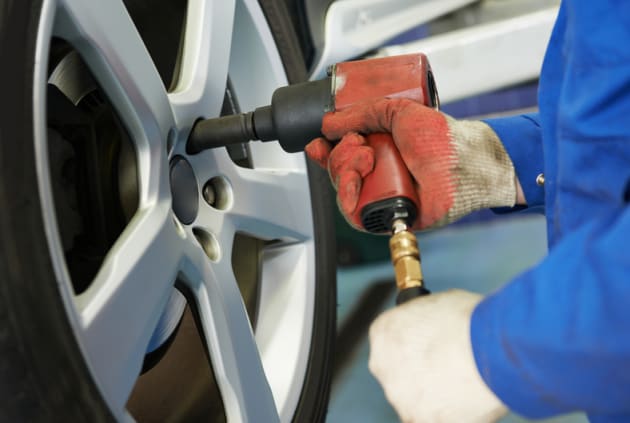 Good Tire Care Practices
In addition to receiving service as recommended, there are several habits you can adopt in order to further preserve the life of your tires and prevent the need for tire repair. Follow these tips and your tires will surely thank you:
Check air pressure on a monthly basis


Both underinflated and overinflated tires present a bevy of problems, all of which can be avoided by monitoring your air pressure and filling up as needed. Most new vehicles are equipped with an electronic tire pressure monitoring system, however, if you drive an older car, you can use an at-home pressure gauge or stop by our tire shop near me for assistance.

Obey the speed limit


Tires get pretty warm when driving, especially during the summer. Bad habits like speeding or hard-braking can cause excess heat, which increases the risk of a blowout! Therefore, the best bet to staying safe is following the rules of the road.

Avoid potholes when possible


Perhaps that road with all of the bumps, cracks and potholes makes for the fastest commute to work, but constantly driving over hazards will cost you in the long run. Taking the smooth, paved roads may take more time, but they'll also help to prevent punctures, cuts and other damage.
When to Repair or Replace Tires in Phoenix
Whether your tires are brand-new or a little worn and torn, they're not fully immune to damage caused by weather, road obstacles or just everyday driving. Be sure to pay close attention to your tires' health, and look out for signs that indicate they are in need of immediate tire repair, including:
Vibrations when driving at highway speeds
Damage to the sidewalls, including cracks, gashes, bulges or bubbles
Vehicle pulling with an off-center steering wheel
Loss of air pressure or leaking
Of course, if your tires are balding or lacking tread, you'll also want to bring your vehicle into a tire shop near me for replacement. We proudly carry all of the high quality new tires in Phoenix that you're looking for, from Michelin tires and Pirelli tires to Bridgestone tires and Goodyear tires.