Like oil changes and tire rotations, routine battery service is vital to keeping your Honda performing at its best. However, Valley drivers often have many questions when it comes to battery service in Phoenix, including "what happens during battery service" and "when should I receive car battery replacement near me."
That's why we've compiled this quick and painless guide to Honda battery maintenance, covering all the bases so that you can make smart decisions when it comes to caring for your Honda car, truck or SUV!
What Is Battery Service and Why Is It Important?
The importance of battery service in Phoenix cannot be stressed enough, especially since our hot weather tends to negatively impact car batteries. Not only can battery service extend the lifespan of your new Honda battery, it can also alert you to problems that have the potential to cause battery failure.
During an inspection at our battery shop in Phoenix, we'll start by running some diagnostic tests to ensure your battery is fully charged and performing as intended. We'll also inspect the battery, clean up any dirty or acid build-up, and apply anti-corrosion pads and protectant to keep it in good shape.
How Long Is the Average Car Battery Life?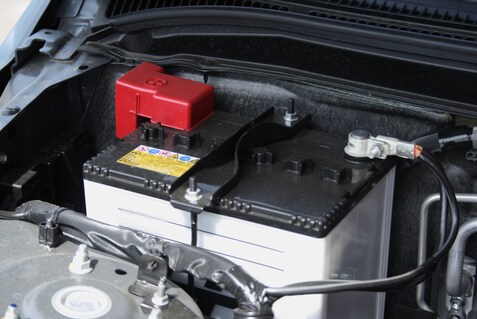 Car battery life depends on a number of factors, especially location. Desert climates are less friendly to batteries, meaning that if your car spends most of its time in Phoenix, you can expect to get about two to three years from the battery.
Battery longevity can also be affected by driver behavior. For example, if you tend to idle a lot, whether waiting to pick the kids up from school or sitting in that long coffee shop drive-thru, it could be causing your battery to drain faster than it can recharge. Other common battery-draining behaviors include:
Taking too many short drives
Letting your vehicle go weeks without being driven
Leaving your lights on overnight
Keeping power adapters or other parasitic drains-accessories that depend on battery power-plugged in when not in use
Parking your vehicle in direct sunlight
How Do I Know It's Time for Car Battery Replacement Near Me?
At one point or another, you'll need to replace your car battery. While it is possible that you may be surprised out of the blue by a dead battery, there are usually warning signs your car battery is dying. Whether you have a brand new Honda battery or an older one, always be on the lookout for these telltale symptoms:
"Battery charge low" warning message has appeared on the dash
Engine cranks very slowly
Headlights appear dimmed
Horn sounds weak
Battery is leaking acid
Whenever you experience problems with your battery, head to Showcase Honda on Camelback Road! We'll help you find and install the right battery for your vehicle, whether it's a Honda or any other make and model. Call us today for additional information!
Service Hours
Monday

7:00am-6:00pm

Tuesday

7:00am-6:00pm

Wednesday

7:00am-6:00pm

Thursday

7:00am-6:00pm

Friday

7:00am-6:00pm

Saturday

7:00am-5:00pm

Sunday

Closed