Quality Honda CR-Z Research From Showcase Honda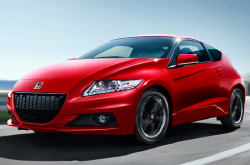 The 2014 Honda CR-Z is one of the sportier looking hybrid cars in the automotive industry, featuring an athletic build, low stance, wide-mouthed grille, sweeping, distinct lines along the doors, engaging headlamps and long hood. Its powertrain is sufficient and changes to its battery pack in 2013 have also improved mechanics, increasing car performance. Additional features, such as Econ mode and Plus Sport, give drivers a few extra options to choose from in order to tailor their driving experience and also reduce the amount of fuel being used. Each of these components help bring functionality to the CR-Z - a sought-after quality by Phoenix shoppers. Read our quick summary below to learn more about the 2014 Honda CR-Z in Phoenix, then continue further down for info on its specifications.
A 15-kilowatt electric motor and a 1.5L four-cylinder engine are outfitted on the 2014 CR-Z. When used together, they deliver 130 horsepower and 140 lb.-ft. of torque, and come with either a CVT or a six-speed manual transmission. The CVT receives greater EPA ratings, but the manual is ideal for drivers who want a more hands-on experience. Due to a switch from a nickel-metal-hydride pack to a lithium-ion battery last year, the sport compact hybrid's performance aspects have also been enhanced and are much better than in previous models.
For drivers who want to save up on fuel, Econ mode is available across the CR-Z lineup. This innovative function reduces acceleration and limits the climate control feature in an effort to maximize fuel efficiency. A Sport mode, praised in several 2014 Honda CR-V reviews, also quickens engine response and produces exceptional handling. The tool is complemented by a Plus Sport System, which lets drivers receive an extra five-second boost of torque, propelling them past the competition.