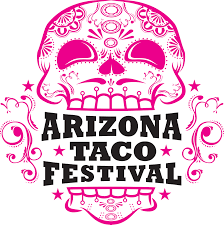 Salt River Fields at Talking Stick
7555 N. Pima Road
Scottsdale, AZ 85258

Oct. 14-15, 2017
11 a.m.-7 p.m.
The Arizona Taco Festival—the name alone is enough to ignite your appetite! The annual fiesta is returning to the Valley in just a few weeks, giving local foodies the opportunity to indulge in a tasty variety of tacos and other Mexican-inspired treats.
Whether you eat, sleep and breathe tacos, or simply enjoy a savory street taco every once in a while, you won't want to miss out on the awesome food at this year's event. Over 50 of the Valley's top restaurants will be in attendance, including favorites like Casa Anejo, Diego Pops, Lumberjack's Taco Shop, Modern Margarita, Rubio's and United Lunchadores Food Truck. Tacos are only $2 a pop, too, so be sure to come hungry!
If you get thirsty, you can always take a break from snacking and check out the Tequila Expo (Saturday) or the Margarita Tent (Sunday). If you're a no-nonsense tequila fan, the former offers a chance to sample from over 100 different spirits from over 30 different brands. The Margarita Tent, on the other hand, is the place to go for delicious, one-of-a-kind cocktails whipped up by talented mixologists.
On top of all that, the Arizona Taco Festival has a great entertainment lineup. From live music and lucha libre wrestling to a chili pepper eating contest and Chihuahua beauty pageant, there won't be a dull moment at this year's event.
Purchase your tickets to the Arizona Taco Festival now by visiting their website! We hope you and your family enjoy this popular festival in Phoenix.